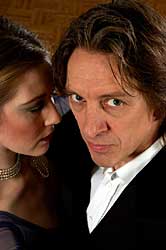 with Rotraut
Ricardo teach since 1990.
Tango de salón he learned by dancing in the Dance salóns (milongas) in the 14 years he lived in Buenos Aires.

Tango classes in courses and workshops.
Over 50 times he was invited worldwide to preform and teach
Official homepage of Ricardo y Rotraut: www.tango-argentino.info

Ricardo in facebook





1988 - 2002 "Ricardo y Nicole"
Together with Nicole Nau, dance partner from 1988 to 2002, Ricardo lived in Buenos Aires performed and teached in Buenos Aires. RyN toured all over the world. Their artistic name was "Ricardo y Nicole".

They choreographed several shows and produced the tango opera "Orestes last tango".


In 2001, they are shown on 2 argentine stamps:


Awards
Ricardo y Nicole received the 1993 COMFER award of the Republic Argentina.